In This Story
People Mentioned in This Story
Body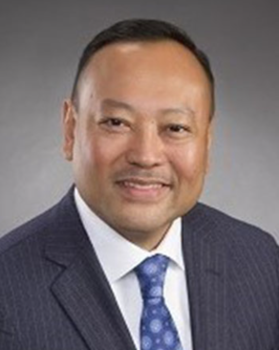 Reflecting on his career path in the three decades following his graduation from George Mason University, George Cabalu, BA Economics '92, is grateful that he chose the green and gold. In fact, with the university rapidly climbing ranks across the board, his degree has never been more valuable. Cabalu, who is now a Managing Director at Wells Fargo Advisors, is extending a helping hand to students by establishing the Cabalu Scholarship Endowment, geared toward School of Business students of Asian descent and from socioeconomically disadvantaged backgrounds. "I owe a part of my success to George Mason, and I am a big believer in giving back," he says.  
Business, in one form or another, touches all disciplines of study and professional fields, and Cabalu's degree in Economics is no exception-he even completed several courses through the School of Business, such as accounting and marketing. Recently, when the school introduced the program in financial planning and wealth management, he joined the advisory board to share his expertise. "What we're going to see in the future is this huge transfer of wealth from one generation to another, and so this is a really exciting time for this career field," he says. "Sitting on this board with me are a lot of great financial advisors and wealth managers who are all contributing to the success of this new program."  
Mason is much more than a place that prepared Cabalu to succeed in his career. It is where he formed close friendships that endure to this day, in which he can call or text, whether it be something trivial, personal, or professional to discuss. In addition to those friends, he received support from faculty and staff that gave him the confidence to work toward his dreams. All that support made a tremendous impact. Even so, he often thought about the difference that any amount of scholarship money would have made as he balanced a heavy course load with his workload. This led to the creation of the Cabalu Scholarship Endowment. "If I have the time and resources, I don't want to forget about the people and organizations that helped get me where I am now," he says.  
George Cabalu has put his money where his mouth is – first by serving on the Financial Planning and Wealth Management Advisory Board and now with his creation of the Cabalu Scholarship Endowment. His selfless commitment shows students that the School of Business is a community where dreams are supported.