Take the lead in moving the economy and society to a more sustainable future. 
Prepare to support organizations in transitioning to new sources of energy in an uncertain policy environment and in the face of rapidly changing technology.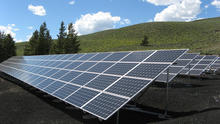 Mason's energy transition management minor equips you with the knowledge and skill set required to support public and private sector organizations in making the transition from fossil fuels to cleaner sources of alternative energy, which involves active management of multiple technical, organizational, and financial factors. 
Eligibility and Requirements
The minor requires the successful completion of 18 credits (6 courses) with a grade of C or higher. Up to two classes can be used for dual credit (major and minor)  
Requires sophomore standing (30 earned credits) to begin minor courses. 
How to Declare a Minor
1. Download the Undergraduate Declaration of Minor Form
2. Meet with an Academic Advisor
Schedule a meeting with one of our academic advisors to review requirements and prerequisites. Bring your minor declaration form to the meeting to obtain the required advisor signature 
3. Submit Your Completed Form to the Office of the Registrar
See this guide to ensure the correct routing and facilitate faster processing. 
Office of Student Success and Academic Services
Enterprise Hall, Room 008 (Lower Level)
703-993-1880