Gain expertise in resolving conflicts in any type of organization. 
Develop an in-depth understanding of complex social and organizational problems and expand your knowledge of the business and conflict resolution fields.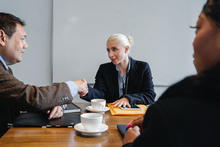 Mason's organizational conflict resolution minor equips you with the skills and understanding to navigate and resolve corporate/enterprise conflicts through both managerial and social justice lenses. This inter-disciplinary program combines the established concepts of conflict management, corporate governance, and leadership development with important peace-building theories that emphasize the impact of culture and identity, non-violent social engagement, and trauma and healing.  
Eligibility and Requirements  
The minor requires the successful completion of 15 credits (5 courses) with a grade of C or higher. Up to two classes can be used for dual credit (major and minor)  
Requires sophomore standing (30 earned credits) to begin minor courses. 
How to Declare a Minor
1. Download the Undergraduate Declaration of Minor Form
2. Meet with an Academic Advisor
Schedule a meeting with one of our academic advisors to review requirements and prerequisites. Bring your minor declaration form to the meeting to obtain the required advisor signature
3. Submit Your Completed Form to the Office of the Registrar
See this guide to ensure the correct routing and facilitate faster processing.
Office of Student Success and Academic Services
Enterprise Hall, Room 008 (Lower Level)
703-993-1880