Add a business minor to your passion and find expanded career opportunities. 
Get introduced to the skills you'll need to be successful in the rapidly evolving world of business with a business minor.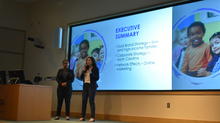 Designed for non-business students, Mason's business minor will help you learn the broad business essentials that will make you more employable. With a business minor, you'll develop a foundation in the functional areas of business including accounting, finance, management, marketing, and information systems. 
Eligibility and Requirements
Available to undergraduate, non-business majors 
Requires sophomore standing 
Requires the successful completion of 15 credits (5 courses) with a grade of C or higher. Some of these courses are already required by other undergraduate majors at Mason and some can be used to meet Mason general education requirements. 
How to Declare a Minor 
1. Download the Undergraduate Declaration of Minor Form
2. Meet with an Academic Advisor
Schedule a meeting with one of our academic advisors to review requirements and prerequisites. Bring your minor declaration form to the meeting to obtain the required advisor signature
3. Submit Your Completed Form to the Office of the Registrar
See this guide to ensure the correct routing and facilitate faster processing.
Office of Student Success and Academic Services
Enterprise Hall, Room 008 (Lower Level)
703-993-1880