The Costello College of Business provides a range of opportunities to interact with and learn from the global community.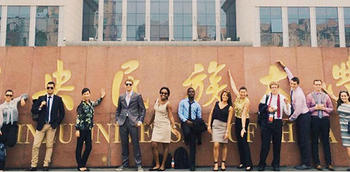 From study abroad programs to internationally focused courses to our Mason campus in Songdo, South Korea, the Costello College of Business encourages all its students to approach their learning with a global mindset. 
Business is a truly global enterprise that spans across borders and connects global citizens to each other. 
Learn more about global learning and study abroad opportunities: 
Study Abroad Spotlight
Jasmine Holmes, BS in Business, Management Concentration
Studied at Mason Korea, Songdo, South Korea
"Studying abroad in Korea was a life changing experience. I met amazing people and built strong friendships on my journey. We traveled all over Korea visiting places like Busan and every weekend was a new adventure in a new city. There's something about exploring a new world that brings people closer together in unimaginable ways. Before I left, I was already planning on traveling back and made plans for when the Mason Korea students come to Fairfax. The classes I took were taught by knowledgeable professors and I was surrounded by hard working students. The atmosphere at Mason Korea encouraged students to study hard, but also have fun. The staff at Mason Korea were also very kind and encouraging towards the foreign students. They helped me sort the documents I needed for my visa and made the whole process a lot easier. I definitely recommend traveling to Mason Korea for students who want to broaden their horizons and experience a foreign country at an affordable price"