Welcome to George Mason University's School of Business! 
New Student Orientation is the first step for all incoming undergraduate students.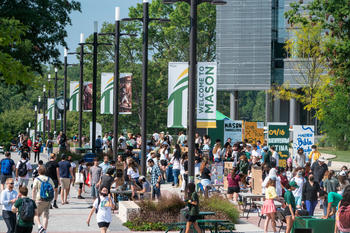 Mason's campus-wide orientation will connect you to your George Mason University family and provide you with important information about all the exciting opportunities available within your new community. All students new to Mason—whether freshman, international, or transfer—are required to attend orientation. After you're accepted, make sure to register for orientation here.  
Learn more about orientation requirements: 
What to Expect at Orientation
At your Mason Orientation, you will be advised by academic advisors from the School of Business. Students will not be able to meet with an academic advisor one on one until after attending orientation or a transfer pre-orientation advising workshop. You must attend the School of Business College 101 and academic advising session in order to have your orientation marked as complete. If you do not attend these sessions, an academic advising hold will be placed on your student account after the last day to drop classes.  
Before Orientation
During Your Advising Session
Your advisor will discuss the following resources:  
After Orientation
Save these resources for reference: