Gain a strong set of entrepreneurship acumen.
Interested in learning more about the elements of new venture creation? Then an entrepreneurship minor may be for you.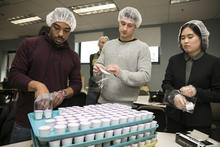 Mason's entrepreneurship minor, in combination with the Costello College of Business' co-curricular entrepreneurship programs, provides an experiential platform to help you grow your skills, network, and professional portfolio. Entrepreneurship minors have an academic link to the Center for Innovation and Entrepreneurship and the Mason Innovation Lab, and will gain exposure to entrepreneurship teaching and research faculty as well as successful entrepreneurs in the community.  
Eligibility and Requirements 
The minor requires the successful completion of 15 credits (5 courses) with a grade of C or higher. Up to two classes can be used for dual credit (major and minor) 
Requires sophomore standing (30 earned credits) to begin minor courses.
How to Declare a Minor 
1. Download the Undergraduate Declaration of Minor Form
2. Meet with an Academic Advisor
Schedule a meeting with one of our academic advisors to review requirements and prerequisites. Bring your minor declaration form to the meeting to obtain the required advisor signature
3. Submit Your Completed Form to the Office of the Registrar
See this guide to ensure the correct routing and facilitate faster processing.
Office of Student Success and Academic Services
Enterprise Hall, Room 008 (Lower Level)
703-993-1880