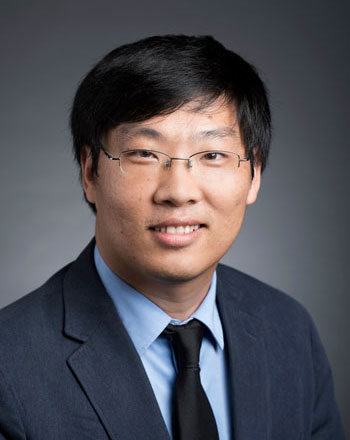 Titles and Organizations
Assistant Area Chair, Information Systems and Operations Management
Additional Roles: Associate Professor, Dean's Scholar
Contact Information
Email: sye2@gmu.edu
Phone: (703) 993-1844
Office Location: Enterprise Hall 138
Office Hours: By appointment
Biography
Shun Ye is an associate professor in the Information Systems and Operations Management Area at the Costello College of Business, George Mason University. He earned his doctoral degree in management information systems from the Robert H. Smith School of Business at the University of Maryland, College Park. He has also earned his M.S. in Management, B.S. in Information Systems, and B.E. in Computer Science and Technology from the University of Science and Technology of China.
His research aims to develop a theoretical and empirical basis for modeling, designing, and managing digital platforms. His primary research focus has been on emerging platforms that drive information transparency, open innovation, and peer-to-peer sharing. His research has been published in top-tier business journals such as MIS Quarterly and Manufacturing & Service Operations Management. He has presented his research at major conferences, including the International Conference on Information Systems (ICIS), the workshop on Information Systems and Economics (WISE), the Conference on Information Systems and Technology (CIST), the POMS annual meeting, and the INFORMS annual meeting.
He is a member of the Association for Information Systems (AIS), the Institute for Operations Research and the Management Sciences (INFORMS), the Information Systems Society (ISS), and the Production and Operations Management Society (POMS).
Prior to joining academia, Ye has worked as a software developer in China. His industry experience includes programming, database design, and system analysis & design.
Ye teaches information systems courses at the MBA and undergraduate levels. He teaches both traditional face-to-face and fully online courses. He has received many teaching awards and recognitions, including George Mason University Teaching Excellence Award (2020), and Outstanding Mason Core Course Instructor (multiple times), among others.
Research Interests
Digital Platforms & Innovations
Crowdsourcing & the Sharing Economy
Customer Analytics
IT-Enabled Transparency
Education
PhD - Management Information Systems, University of Maryland, College Park
MS - Management Science, University of Science and Technology of China
BE - Computer Science and Technology, University of Science and Technology of China
BS - Information Systems, University of Science and Technology of China
Research and Awards
Publications
Raveesh Mayya, Shun Ye, Siva Viswanathan, and Rajshree Agarwal. "Who Forgoes Screening in Online Markets and Why? Evidence from Airbnb," forthcoming, MIS Quarterly.
Nirup Menon, Anant Mishra, and Shun Ye. "Beyond Related Experience: Upstream versus Downstream Experience in Innovation Contest Platforms with Interdependent Problem Domains," Manufacturing & Service Operations Management (22:5), 2020, pp. 1045-1065.
Shun Ye, Siva Viswanathan, and Il-Horn Hann. "The Value of Reciprocity in Online Barter Markets: An Empirical Investigation," MIS Quarterly(42:2), 2018, pp. 521-549.
Shun Ye, Guodong Gao, and Siva Viswanathan. "Strategic Behavior in Online Reputation Systems: Evidence from Revoking on eBay," MIS Quarterly (38:4), 2014, pp. 1033-1056.
Awards
Dean's Scholar Award, School of Business, George Mason University, 2021-2024 
Faculty Outstanding Service Award, School of Business, George Mason University, 2021 
Best Associate Editor Award, International Conference on Information Systems (ICIS), 2020

 

George Mason University Teaching Excellence Award, George Mason University, 2020
Career Connection Faculty Award Nomination, George Mason University, 2020, 2015
Outstanding Contributions to Teaching Award Nomination, School of Business, George Mason University, 2020
Thank-a-Teacher Recognition, George Mason University, 2020, 2019, 2016
Outstanding Research Publication Award, School of Business, George Mason University, 2020, 2018, 2014
Outstanding Mason Core Course Instructor, George Mason University, 5 times
Best Associate Editor Award, International Conference on Information Systems (ICIS), 2019
Reviewer of the Year Award Nomination, MIS Quarterly, 2020, 2019
Pedagogy Innovation Grant, School of Business, George Mason University, 2017