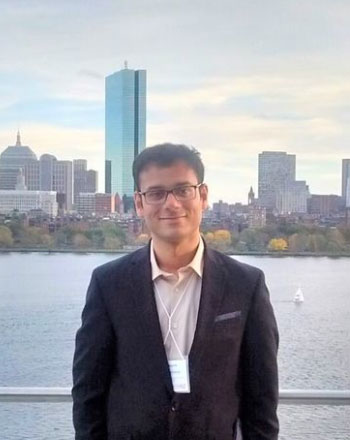 Titles and Organizations
Assistant Professor, Information Systems and Operations Management
Contact Information
Email: sbhatt22@gmu.edu
Phone: (703) 993-1198
Office Location: Enterprise Hall 108
Office Hours: By Appointment
Biography
Dr. Siddharth Bhattacharya is an assistant professor in the Information Systems and Operations Management Area at the Costello College of Business, George Mason University. Before joining George Mason University, Dr. Bhattacharya completed his Ph.D. from Temple University's Fox School of Business in 2021. Siddharth's research focuses on how firms utilize digital information strategies to increase reach, establish relationships with stakeholders, and influence consumer decision making. Dr. Bhattacharya also holds an MBA from Indian School of Business and a Bachelor's in Computer Science Engineering from India. Dr. Bhattacharya's work has been published in premiere journals such as Information Systems research among others. He has also presented his work in many reputed conferences including CIST, ICIS, WISE, WITS, CODE@MIT, Marketing Scienceamong others.
Dr. Bhattacharya is an active member of the Institute for Operations Research and the Management Sciences (INFORMS), the Association of Information Systems (AIS), and the Production and Operations Management Society (POMS).
Research Interests
Digitization and Online Consumer Behavior
Business Analytics
Digital and Search Engine Advertising
Social Networks and Platform Strategies
Education
PhD –Information Systems, Fox School of Business, Temple University
MBA–Marketing and Strategy, Indian School of Business
Bachelors – Computer Science Engineering, India
Research and Awards
Research in Press:
Patents:
"A Context-Aware Recommendation System Considering Both User Preferences and Learned Behavior", US-PATENT 9,510,050
"An Architecture for Real-time Television Audience Measurement", US-PATENT 9,510,759
Awards: 
PhD and Beyond

Winner of the Elwood S. Buffa Doctoral Dissertation Award (Awarded by the Decision Science Institute annually to 1 recipient internationally)
2022 George Mason School of Business Outstanding Publication Recognition
ICIS 2020 Doctoral Consortium Best Team Award
Fox School 2020 Cochran Award for Excellence in Research by a PhD Student.
Fox PhD Student Annual Evaluation (Overall High Pass - 2017, 2018,2019,2020).
Fox PhD Annual Research Competition (First Place), 2017
Fox PhD Annual Research Competition (Runner up), 2018

MBA

Won the global CK Prahalad Case competition (2014) at Ross School of Business, Michigan.
Second-runner up (3rd place) at the IRF Retail B plan competition (2014), Mumbai.
ISB Merit list

Industry

Two patents from industry research.
Awarded Certificate of Appreciation (CIG) by TCS-R&D due to contribution towards the creation of intellectual property.
Special Initiative Award at Barclays Bank.
Service: 
Journals: Information Systems Research (ISR), Production and Operations Management (POMS), Information Technology and management, European Journal of Information Systems (EJIS)
Conferences: International Conference on Information Systems (ICIS), Conference on Information Technology and Systems (CIST), Workshop on Information Technologies and Systems (WITS), Hawaii International Conference on System Sciences (HICSS)
Program Committee Member, Conference on Information Technology and Systems (CIST) 2021,2022
Associate Editor, International Conference on Information Systems 2023
Session Chair, Production and Operations Management (POMS) 2018-2022
University Service: PhD Recruitment Committee 2022-2023
Media Clippings