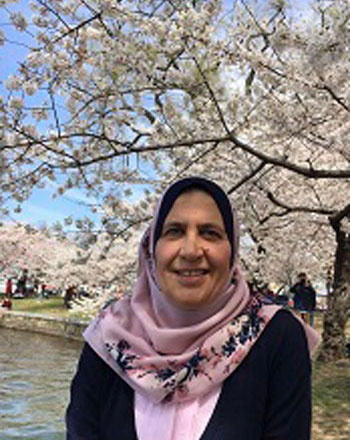 Titles and Organizations
Adjunct Faculty, Information Systems and Operations Management
Contact Information
Email: malhammo@gmu.edu
Office Location: Enterprise Hall 156
Office Hours: By appointment
Biography
Mayyada Al Hammoshi is working as a Computer Science program chair and associate professor at Fairfax University of America since 2016. Prior working at Fairfax University of America, Mayyada worked (2008-2015) as assistant professor and chair at University of Technology and Applied Computer Science in Sultanate of Oman. During that period, she served more than 6 years as a chair for Scientific Research and Computer Science departments, respectively.
Mayyada served as the principle investigator (2010-2015) for the Omani Research Council Grant's research toward the development of a multi-agent grid computing facility based on graphics processing units. The project worked on risk mitigation plan for the tropical cyclones that threatened Oman bay's area. Prior working in Oman, Mayyada worked (1995-2008) as a lecturer and assistant professor at the university of Mosul in Iraq.
In her more than 20 years of experience, Mayyada taught many Computer Science, Information Technology, Information Systems, and Computer Engineering courses. She also published more than 25 papers in international peer reviewed journals and conferences. She also volunteered as technical program committee, reviewer, and editorial board in many international journals and conferences. 
Research Interests
Cybersecurity
Networking
Cloud security
Risk mitigation assessment
Digital forensics
Ethical hacking
Management of Technology and Innovation
Education
Ph.D. Computer Science, Mosul University
M.S. Computer Science, Mosul University
B. S. Computer Science, Mosul University
Research
Published an article titled, "Cloud Security Threats, Statistics and Mitigation Plans, Published", in IMCIC 2020, Orlando, FL, USA, (March, 2020)
Published an article titled, "CUDA. implementation of fractal image compression", Journal of Real-Time Image Processing, Vol. 16, pp. 1-13, (July 3rd, 2019).
Published an article titled, "Genetic Algorithm based key Generation for Fully Homomorphic Encryption", Journal of Information System Security, JISSec, Vol. 14, No. 2, (January 26th, 2019).
Published an article titled, A Comprehensive Study of Fully Homomorphic Encryption Schemes. International Journal of Advancements in Computing Technology (IJACT) Vol. 10, No. 1, (March 2018).
Published an article titled, "IoT Resources Management: A Comprehensive Study Supported by the Top Providers of Things Management", International Journal of Development Research, IJDR, Vol. 07, (December 2017).
Published an article titled, Genetic Algorithm based key Generation for Fully Homomorphic Encryption. Published in the 16th Annual Security Conference / ISOne World Conference Information Institute, Las Vegas, NV, USA, (April 18th -20th, 2017).
Published an article titled, "Accelerating High Arithmetic Intensity Storm Surge Model using CUDA", Recent Trends in Parallel Computing, ISSN: 2393-8749 (online), Vol. 3, Issue 2, (July 2016). 
Published an article titled, "An Analysis for a Cluster Tree Zigbee Topology", published in Journal of Theoretical and Applied Information Technology, JATIT, ISSN:   1992-8645, E-ISSN: 1817-3195, (Jun 2014).
Published an article titled, "Analysis of Voice Over Wi-Fi in A Wireless LAN with IEEE 802.11b Standard", Recent advances in electrical and computer engineering, ISBN: 978-1-61806-228-6, (2014).
Published an article titled, "Managing Different ZigBee Network Topologies Using OPNET", Second International Conference on Applied Information and Communication Technology, ICAICT. (2014)
Published an article titled, "Efficient evaluation of reachability query for directed acyclic XML graph based on a prime number labeling schema", Egyptian Informatics Journal, (2012)
Awards
Publishing in international refereed journals, 2011, from Iraq Ministry of Higher Education and Scientific Research
Teaching excellence, 1998, from Iraq Ministry of Higher Education and Scientific Research