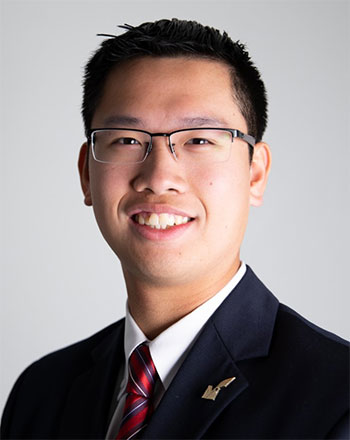 Titles and Organizations
Instructor, Information Systems and Operations Management
Contact Information
Email: bngac@gmu.edu
Office Location: Enterprise Hall 102
Office Hours: By appointment
Biography
Brian Ngac is an instructor within the Information Systems and Operations Management Area in the Costello College of Business at George Mason University. He received both his BS (2016) and MS (2017) in Applied Information Technology with a cyber focus from GMU. Additionally, he has over five years of experience in Application Security, Cyber Policy and Assessment, Process Improvement, Program Management, and Training.
Outside of GMU, he is Deputy for Independent Research & Development (IRAD) programs focused in the areas of cyber security, data analytics, digital engineering, and technical talent development & retention at Parsons Corporation. Before that, he was Program Manager and Deputy Director for the Space & Technology Group at Parsons focusing on technology development, systems/security integration, cyber assessment, and business process improvement projects.
Prior to working with GMU as a fulltime instructional faculty, he was an Assistant Professor of Information & Engineering Technologies at NVCC and an Adjunct Professor for IST (School of Engineering) & ISOM programs at GMU. He holds memberships with PMI, (ISC)2, ISACA, and EC-Council. In addition, he holds a Cyber Executive Membership with the Information Systems Security Association (ISSA). He also participates in the writing and review of questions on cyber security certification exams administered by (ISC)2 and EC-Council – the organizations known best for the CISSP and CEH credentials respectively. He is also one of a select few in the world (less than 100 people as of Jan 2020) who holds the CISSP certification with all three concentrations (Architecture, Engineering, & Management).
Research Interests
Cyber Security
Business Process Improvement
Engineering Education
Technical Talent Development & Retention
Education
MS in Applied Information Technology, Cyber Security
BS in Applied Information Technology, Information Security
Certifications
Certified Chief Information Security Officer (C CISO)
Project Management Professional (PMP)
Certified Information Security Manager (CISM)
Certified Information Systems Security Architecture, Engineering, & Management Professional (CISSP-ISSAP, ISSEP, & ISSMP)
Certified in the Governance of Enterprise Information Technology (CGEIT)
Certified in Risk and Information Systems Control (CRISC)
Certified Secure Software Lifecycle Professional (CSSLP)
Certified Cloud Security Professional (CCSP)
Certified Information Systems Auditor (CISA)
Publications
Ngac, Brian. "Cyber Professionals can be the Best Cyber Teachers." Information Systems Security Association (ISSA) Journal. February 2020
Awards and Recognition
GMU Core Award Letter: Commitment to Excellent Teaching: Spring 2019 from Bethany Usher (Associate Provost, Undergraduate Education) for IT 493 being recognized by students as an outstanding Mason Core Capstone course [5 November 2019]
Inducted into the Parsons Early Management Acceleration Program (EMAP): Class of 2019 by Chuck Harrington (Chairman & CEO, Parsons Corporation) based on senior management nominations for performance excellence and leadership potential [12 December 2018]
Parsons Diversity Core Values Coin from Mike Dewitz (Executive Vice President, Engineering & Technical Services Division) for excellent, unique, and continuing work on international cooperation programs [27 August 2018]
SAF/IA Recognition & Excellence Coin from Rich Saxon (SAF/IAPC Branch Chief - USAF) for above and beyond service to the division's MILSATCOM mission of security through cooperation [2 June 2017]
Letter of Professionalism & Dedication from Heidi Grant (Deputy Under Secretary of the Airforce, International Affairs) for support in the US-ROK Technology Cooperation Sub-Committee [24 May 2016]
Letter of Recognition & Quality Support from Keith Webster (Director, International Cooperation – Office of the Secretary of Defense) for work in the US-ROK Technology Cooperation Sub-Committee [16 May 2016]
Speaking Events and Conferences
Moderator for the Professional Quest: Technology in Business Panel event at George Mason University [7 November 2019]
Co-Speaker for the presentation of Cyber Security Career Paths during the assisting Females in Technology (aFIT) event at Northern Virginia Community College [12 September 2018]