Body
An active board member and past chair of the Accounting Advisory Council (AAC) at the George Mason University School of Business, A.J. Eschle, BS Accounting '08, MBA '12, works with the accounting area to prepare students for the accounting profession and to ensure that the school's programs are where they need to be. 
Additionally, his firm CliftonLarsonAllen (CLA), at which he is a principal, partners with the School of Business as an AAC firm to shape curricula and recruit students. One of the Mason students he had previously helped recruit is Mary Adabi, BS Accounting '18, MSA '20. "It was during the George Mason career fair and I was going from booth to booth," she says, "A.J. was there with a couple of other CLA members and we had a great connection. I followed up after via email and began attending more of their events." For the past five years, Adabi has been a colleague of Eschle at CLA and has been part of their team actively recruiting talent at Mason and other institutions.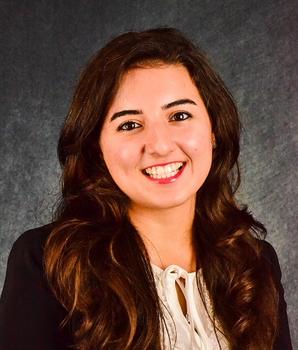 After completing his undergraduate degree during his first two years at CLA, Eschle graduated and has led the recruiting efforts for the past 14 years at his alma mater. Early involvement centered around career fairs but has since expanded by joining the AAC and connecting with faculty, the accounting society, Beta Alpha Psi (international honorary organization for accounting, finance, and information systems majors), and other student organizations. "George Mason genuinely produces students who are very hardworking and very good at multitasking and project management," he says. "That's something I've been impressed by with Mason students and I think a large part of that is because so many students are either first generation or they're working while going to school."  
Adabi was still completing her masters when she began at CLA and really enjoyed working with students, many of whom she knew, on recruiting and career advice. "I provided whatever tips or tricks that I had, like a handwritten letter to their recruiter, or other small touches that can give them the job. It's just nice to go back and give back to the university where we came from and where we all had great experiences," she says. Peggy Tsirigotis, assistant area chair and instructor of accounting, Dean's Teaching Faculty Fellow, works closely with Adabi. "Mary stands out as a shining example of how alumni can significantly impact students' success," says Tsirigotis." Her friendly, energetic, and supportive nature dispels the stereotypes students may have about accountants. Through her sincere commitment to student success, Mary shares her own accounting career journey, mentors students during recruitment, and provides support throughout internships–all of which contribute to fostering successful graduates." 
When Adabi first enrolled at Mason, she was undecided on her major, having no idea what career path interested her. With her mother's encouragement, she signed up for an accounting class and absolutely loved it. Her success in the course surprised her since she was always more drawn to art and struggled with math. "In school I realized that accounting is about common sense and understanding and troubleshooting things," she says. "Many students don't understand that there's so many career choices for an accounting degree," says Eschle, "and Mary is the true accountant she wanted to be, running the books and software platform for clients at the firm." She works in the cutting-edge digital service line at CLA, embracing digital transformation to enhance or replace obsolete technology or repetitive manual processes. When interacting with current students, she shares how this and other nontraditional accounting career paths can be unlocked with an accounting degree from Mason. 
Ever since her first interaction with CLA, Adabi has felt connected with the firm. "I really like our culture within the firm," she says. "We're friends with almost everyone across the organization, so it's nice to spend eight or nine hours of your day working and not feel like a chore." CLA's strong ties with Mason enable them to have very successful recruiting efforts, filling their office with more and more alumni. The CLA team talks with students to convey the wide range of jobs possible with an accounting degree. Like Mary Adabi, they are encouraged to find their strengths, what they enjoy, and understand that it can translate into a successful career. 
In This Story
People Mentioned in This Story