Body
Before becoming global director of sustainability at Kearney, Sree Kancherla enrolled in the MBA program at George Mason University's School of Business to gain new skills and expand her professional network. 
Already established as an influential advisor and strategist on environmental, social, and governance (ESG) initiatives for a variety of clients spanning industries, Sree Kancherla, MBA '22, wanted to broaden her scope of the business marketplace and sharpen her overall business skills. Originally from Georgia, and settling in the Washington, D.C., region, after having lived and worked abroad, including in Europe, India, and sub-Saharan Africa, she also wanted to expand her network, and quickly. She had heard positive remarks about George Mason University, and when doing her own research, she learned that it offered the flexibility that a busy and ambitious professional like herself required. Almost immediately following her graduation from George Mason University's MBA program at the School of Business, she accepted the position of global director of sustainability at Kearney, a top-tier business consulting and services firm.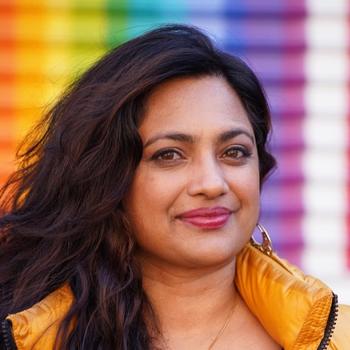 The new role for Kancherla has been something that she has been working toward for over two decades in sustainability, especially since she wanted to consult for a reputable firm that values impact. "What I love about where I work is the culture," she says. "We have such a great firm culture, we are collaborative and innovative and what is distinguishable is that sustainability and impact are embedded in our ethos." At Kearney, she is responsible for advising companies on their sustainability strategy through the entire supply chain, starting with raw materials, to design, to sustainable and responsible sourcing, and operations transformation. I took what I learned from George Mason, both the soft and hard skills and I'm able to apply it in my day-to-day interactions and my work," says Kancherla. 
Having the George Mason University MBA on her resume factored into Kancherla being noticed by firms like Kearney. However, it was the group collaboration, access to faculty, and coursework that have really enabled her to fully succeed. "At Kearney I interact daily with colleagues from around the world, and we work closely as teams, so having that same global culture at Mason allowed me to work better in groups, plus the access to highly accomplished professors was valuable," she says. A few of the courses in the program directly impacted the work she now does at Kearney. "One of the classes that influenced what I'm doing is Professor Yannis Bellos' Environmentally Sustainable Operations, where we were essentially consultants to a business on their sustainability efforts, and another one was Professor Matt Theeke's strategy class; both play into what I'm doing professionally and enhanced my capabilities," she says. The classes prepared her well to be offered her current position and to excel at it. 
Because of the Covid pandemic, Kancherla's MBA program was completed though a hybrid model. Still, she was able to form friendships and business contacts among her classmates and professors. "One of the best parts for me was the size of the classes. I was able to bond with my peers, and the professors were available for interaction. One of my classmates is a director in career services at the School of Business, and he prepped me for interviews in his free time, and through a recommendation from faculty, I worked on sustainability projects for the School, which broadened my network. There is a sense of encouragement all around that makes me feel integrated into a community," she says. Kancherla still stays in touch with classmates and administration she met during the program and continues to utilize the network she built.  
Going back to get a degree, or balancing classes and work, can be daunting, but the School of Business provided Kancherla with a superb experience. "While these might be eight-week courses or they might be designed differently, they work in your favor to get the knowledge quicker and to move towards your career goals efficiently," she says. Sree Kancherla loves where she now is in her career, and her upskilling journey at Mason to reach it was convenient, fulfilling, and immensely productive, leaving her with lasting bonds.