Body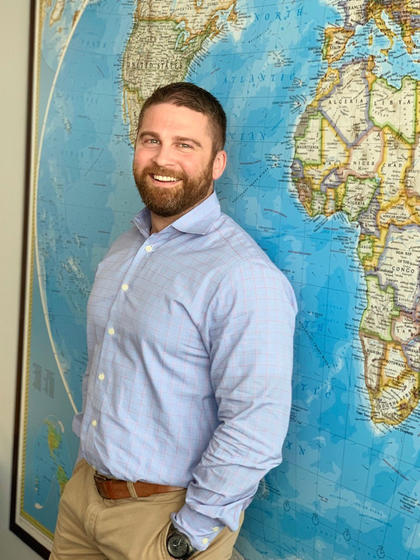 "The foundation for the success that I'm experiencing today came from my Mason education," says Jason Chesky, BS Finance '12. To help current George Mason University finance students build foundations of their own, he established the Jason M. Chesky Endowed Scholarship. Knowing full-well how challenging the cost of higher education can be to some, and the barriers it can create, Chesky wanted to make things a little easier for students and allow them the opportunity to  focus on their education.
Recently promoted to chief financial officer, Chesky began working at Logenix International following his graduation from Mason. The global logistics provider employed only eight people when he started, but has grown to more than 150 worldwide. "I love every aspect of my job because I get to dabble in all the intricacies from insurance and planning to the international aspect," he says. It's gratifying for him to use the knowledge from his background at Mason and to build upon it.
Finance wasn't Chesky's initial interest, first studying sports medicine at another university.  "It just didn't interest me and it's also when I realized that everything is business oriented," he says. "Finance did interest me and every company has transactions and growth, making it absolutely essential." Chesky has come to view his business background as his "Swiss Army Knife of life" in that it prepared him to solve a range of problems that come his way, whether they are professional or personal. He established the scholarship so that other Patriots, regardless of their financial situation, could build similar skillsets.
The recently retired Anthony Sanders, distinguished professor of finance, stands out in Chesky's mind as someone responsible for where he is today. "Professor Sanders took me under his wing and showed me how to apply what I learned and take total advantage of my education," he says. Among the areas where Professor Sanders guided Chesky was in building a network, understanding the finance industry, and developing an overall understanding of life outside the classroom. Many of these are lessons that Chesky now passes along to business students and recent graduates, emphasizing that they don't have to know everything, but they do need to know how to acquire the information.
"Alumni should stay engaged with their alma mater because they are proof of the institution's success," says Chesky. He points out that many students choose certain schools because of the esteemed professionals who were educated there. By establishing the Jason M. Chesky Endowed Scholarship, he is honoring his own time at Mason and making a difference in the lives of students.  It is also a ringing endorsement of the quality education that Chesky received at the School of Business, a curriculum that helped him fashion a Swiss Army Knife of skills. Skills that give him confidence in the face of every responsibility he is tasked with.