Body
Since 2019, George Mason University's Business for a Better World Center (B4BW) has led the university's contribution to the United Nations Principles for Responsible Management Education (PRME) North America chapter.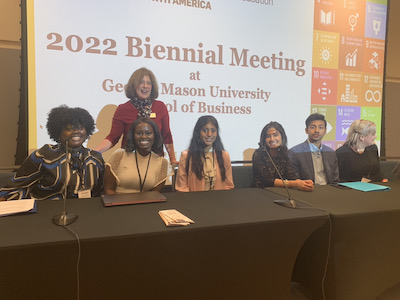 "As educators, we have a moral imperative to educate our students about sustainable business," said B4BW academic co-director Lisa Gring-Pemble. "Our future is dependent upon young global leaders solving our complex problems with creativity, persistence, and a commitment to people, planet, and prosperity."
As part of the UN Global Compact, PRME's purpose is to foster greater commitment to sustainability, as defined by the UN Sustainable Development Goals (SDGs), across pedagogy, research and community engagement at business schools.
Earlier this year, Mason hosted a three-day meeting of North American chapter at Mason Square, bringing in 70 representatives from 25 U.S. and Canadian business schools.
Mason's hosting of this meeting was a milestone in its close association with UN PRME, which dates all the way back to the initiative's inception in 2007. Former Mason president Angel Cabrera was the lead author of the initiative's founding document.
"We're recognized as leaders, and that's why we were chosen to do this," said B4BW academic co-director Anne Magro.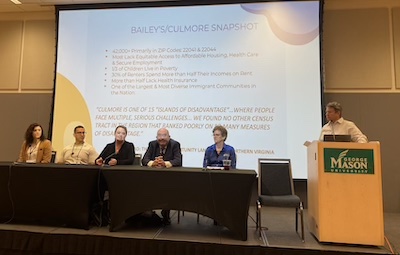 In 2018, Mason was inducted as a member of PRME Champions, a leadership group composed of about 40 academic institutions. All told, UN PRME has more than 880 signatory members.
The April 2022 meeting had a special atmosphere. For many attendees, it marked a return to work-related travel after a protracted, pandemic-mandated pause. In addition to an even greater-than-usual gratitude for being together, there was a heightened feeling of urgency to resume the collective mission.
The meeting's agenda was constructed around the key strategic questions, Magro said, such as "How can we get more recognition for the work that is done? And how can we prepare people to do this work?"
The three levels on which PRME's signatory schools can make a difference—pedagogy, research and community/societal engagement—were balanced on the agenda.
A few highlights:
A panel on experiential learning, featuring the work of B4BW Impact Fellows, showcased the sustainability-focused activities of Mason students, including volunteering, a summer "wicked problems bootcamp" and participating in mental health outreach to Afghan refugee communities.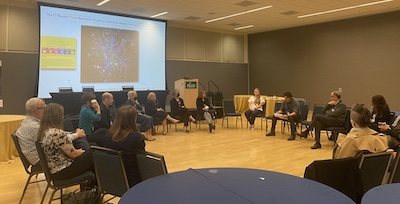 Reflecting on her panel appearance, Impact Fellow Ashanti Martin said, "The most gratifying take away from PRME was being able to express my newfound passion on zero hunger and food insecurity from a student perspective."
Panelist Oishee Mukhopadhyaya stated, "Professionals from NYU-Stern, University of Quebec and others referred to our panel and even spoke with me to learn more about our initiatives. It felt like people were hearing us."
A working session for junior scholars gave advice on accomplishing—and attaining institutional support for—impactful research aligned with the SDGs. A separate panel featured a group of professors working to integrate sustainability criteria based on the SDGs into the research standards used to rank business schools.
In a fireside chat, Paula Sorrell, Mason's associate vice president for innovation and economic development, and B4BW director of research Toyah Miller discussed how the entrepreneurship ecosystem could break down barriers to inclusivity.
Also, Maury Peiperl, then dean of Mason's School of Business, and Alp Özerdem, dean of the Jimmy and Rosalynn Carter School for Peace and Conflict Resolution, led a talk about how business can contribute to international conflict resolution, with a focus on the humanitarian situation in Ukraine.
In addition, the event was intended to provide a platform for initiating real-world change, starting with the UN PRME North America signatory institutions and hopefully radiating outward from there.
"How do we take our ideas and come up with some actionable plans?" said Magro. "It's supposed to be a creative process that then leads to actionable steps, by thinking about how we might work together across different universities."
Top future goals for the North America chapter include growing the membership—already the largest within U.N. PRME—and expanding its diversity to include more HBCUs and Hispanic-serving universities.