In This Story
People Mentioned in This Story
Body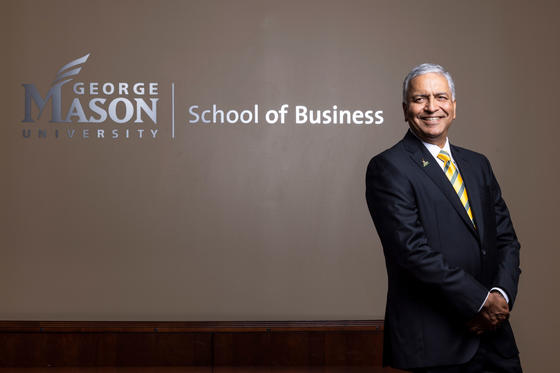 George Mason University recently welcomed Dean Ajay Vinzé to the School of Business. Dean Vinzé comes to Mason from the Trulaske College of Business at the University of Missouri. A lover of animals, Vinzé is dedicated to making a difference in higher education. He is known for research that leverages public and private sector collaboration, and he has successfully built academic programs in close alliance with the business communities in Missouri, Arizona, and Texas. Vinzé is a Fulbright Senior Specialist and a global citizen, having lived, worked or traveled through more than 70 countries over the past three decades. His publications have appeared in leading scholarly journals including Information Systems Research, MIS Quarterly, Decision Sciences, Decision Support Systems, Health Affairs, and various IEEE and ACM Transactions.  
We spent a few minutes chatting with Dean Vinzé to learn a little bit more about who he is, how he came to Mason, and his goals for his time here.
Why is Mason the right place for you?
Mason is the right place for me for a variety of reasons. What you want to do is be at a place where you can make a difference. And when you say that, you mean a place that is ready to make a difference. The location of the place is important, the type of people who are part of that organization are important, the mindset of that organization is important, and then the ability to translate what you are doing into that mindset and location is important. It certainly wasn't my intent to run away from Missouri or Arizona or wherever, but you move towards an opportunity. You move towards some place that is meaningful to you professionally, and personally in a broad spectrum. Mason hits all those items for me in a meaningful way.
You've spent more than 30 years in higher education. Tell us a little about your thoughts on the future of the industry.
Higher education as part of the broader economy, is going through a major change. It's going through a self-evaluation of who we are, what we are, what value we bring to society, and so on. Universities have to think through what their unique value proposition is. And business schools have to do that as well. In business, the typical metric is the bottom line?  In higher education, it's the bottom line and a tangible social impact as we are preparing the workforce of the future. What Covid did was make these issues that were percolating for a while, very real.
Why do you think Mason is on the verge of great growth?
Mason is a young, diverse, vibrant R1 university with unique advantages … for starters, it is situated in Fairfax County, from a business perspective a very forward-looking and education-supported environment, right in the backyard of the most consequential capital city in the world. If that doesn't amount to a great combination, I don't know what does. Add to this the innovative mindset of the institution, our president, the provost, my fellow deans – collectively we are looking at how we can address this uniquely changing situation. Having leadership team who is thinking in these terms is important … now add to this our researchers and scholars  and you have a potent combination of circumstances, location and talent to make a difference – as our president has put it "It is Mason's Time."
Mason turns 50 this year. Did that weigh into your decision to join the School of Business?
Other institutions have this wonderful history, 150 years, 180 years. Having a short history allows you to go through this naturally. At 50 years old, we are just starting to hit our stride, in terms of who we are, what we are, and what we aspire to become. What a perfect time to be at a school that is flexible, forward looking and aspiring to take its place among leading institutions of higher learning … so it was a combination of things, that attracted me to Mason.
What is your impression of the School of Business at Mason?
I have been so impressed by the faculty and staff at the School of Business. We have an amazing team that have been working hard, and doing so much for so long. Where we are now, we have a huge opportunity to not just be impactful as a regional school, but to be a national business school of major consequence and major significance. I'm excited to build upon all that was created by those before me.
What do you feel good about in terms of your professional contributions?
When I consider my professional accomplishments over the years, I often think about it on three fronts: students, administration, and research.
On the student side, I am very proud of the Heartland Scholars Academy for rural first generation students that we initiated during my time at Missouri. It was created to make sure we level the playing field for education. They just graduated their first group of Heartland Scholars, and now it's an endowed program that's very highly respected. And it has ended up fostering a whole series of other support at Missouri including what is called the Allen Access Program, which is to increase access for all programming in the school, for all students regardless of their background. To me, I consider this a major accomplishment.
On the administration side, overall I am proud to say I have been innovative in a changing landscape, being able to move from institution to institution and feel like you made a contribution to each of these institutions. Specifically, I'm very proud of the fact that at Mizzou we spawned the first Master of Science in Business that is in a truly stackable format where the business school collaborated with every other school on campus. We spawned a truly flexible degree program. I expect to do a version of this at George Mason. That was version 1.0. I think we need version 2.0 and 3.0 here.
lf you look at my research, it's eclectic. It ranges from being technical and computer science-ish to the other end of the spectrum and behavioral in its orientation. I have researched artificial intelligence (AI) applications for business problem solving, collaborative computing, emergency preparedness and response, and disruptive influences of ICT investments, to name a few. My proudest research accomplishment was when I was recognized at Arizona State University for 10 year impact that my research had on businesses in the state of Arizona. That was a proud moment for me because it was a recognition that the work I did, not just a paper, but research over a 10 year period, had an impact. Another proud accomplishment was in 2008 with the H1N1 outbreak. The software system that we wrote helped guide the county and the state with vaccine distribution. We had a real impact on real lives.
Finally, a fun accomplishment I had was being able to participate on the public health task force of two Super Bowls. It was amazing to see the kind of preparation that goes on to host an event like that. And while I was in Arizona we did it twice.
What do you enjoy doing when you're not working?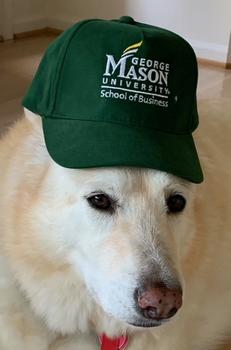 When I'm not working, I like helping in a meaningful way … particularly being able to do something worthwhile with animals (principally dogs). That's where my downtime happens. I like to volunteer in a shelter or other rescue operations, such as the American Society for the Prevention of Cruelty to Animals (ASPCA), or Power Paws. I think you can make a real difference in an animal's life. It makes me happy.
I also enjoy traveling and good food. I have had to opportunity to spend large amounts of time in different countries throughout my life, and so many have had an impact on me. Aside from the United States, which has been my home for 40 years, India, the Philippines, Peru, the Balkans, and New Zealand have left lasting impressions on me. India is a country that defines me—this is where I am from, my family, heritage, culture, and undergraduate education. I love the food, cultural, religion, language, diversity, the phenomenal history, a unique business culture and of course the recent dominance in IT. I spent my formative years in the Philippines. This is where I went to high school and got my first job—a job that had me pivot from finance to IT and defined my future professional focus. I have wonderful memories, some of the friendliest people, the beaches are beautiful—over 7000 islands, so much to explore. I was also in the Philippines during times of tumultuous political change and experienced the "People's Power" movement firsthand. Peru is the country I have visited the most (other than India) 30+ times over 15 years. I have strong friendships, good relationships in the business, government, and educational sectors, and spent two short stints as part of my Fulbright Specialist program. There is wonderful geography, fabulous archeological treasures and very importantly, awesome cuisine. There is very interesting history in the Balkans. I initially visited Bosnia as part of the Fulbright Senior Specialist program, then continued to visit them annually for the next 7 years to follow up on projects and research that we initiated. Finally, New Zealand is home to mountains, volcanos, and beaches—unparalleled natural beauty! I was there twice for research-related trips, and visited multiple times with business students. Amazing to be in the first country to see the sunrise on any day.
Anything else you'd like to share?
I'm just thrilled and delighted to be here. I'm excited about the possibilities. My first month at Mason has been fantastic. As I walked in the door here, with all the conversations I had in the two months leading up to my relocation, I didn't feel like an outsider. I met with a number of people before I started, so I walk down the hall and feel like I'm revisiting with people I know, as friends and colleagues. Over here it feels like we've known each other, we've been talking, and now we need to do things together. I'm just happy and excited to get going.