In This Story
People Mentioned in This Story
Body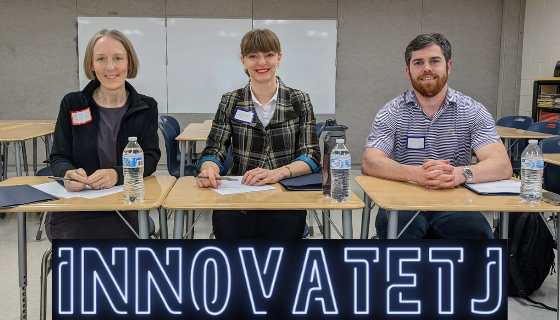 InnovateTJ judging panel including Crystal Fickers, CIE Program Manager (center) 
---
Last Saturday, over 100 high school students gathered at Thomas Jefferson High School for Science and Technology (TJHSST) for InnovateTJ, a full-day business pitch competition and workshop series. The classrooms were packed with students listening intently to various speakers. The hallways reverberated with audible jitters.
The entire event was planned and executed by TJHSST students. 28 groups of 2-4 students were given the theme of sustainability to help mold their business ideas.
With her background in launching start-ups and guiding students in entrepreneurial education, Crystal Fickers, CIE's Program Manager, was asked to be one of the judges for the final day of presentations.
Student groups each took turns presenting their business pitch to the judge panels. Students were then graded on a rubric based on points for innovation, product need, financial analysis, and professionalism.
TJHSST students came with an impressive array of creative solutions to the world's sustainability problems. Pitch ideas ranged from eco-friendly bags made of hemicellulose, a fintech product intent on investing exclusively in sustainable entities, the decellularization of plant tissue to create human organs, to a product designed to mitigate dust particles in space, amongst others. Two of these groups won cash prize investments to fund their venture.
A big (virtual) round of applause to all of the amazing students working hard to innovate a more sustainable world! As a part of CIE's broader mission to grow the regional entrepreneurial ecosystem, CIE will continue to offer support to TJHSST students and entrepreneurs of all ages as they prepare to enter the market with their innovative products.
Topics