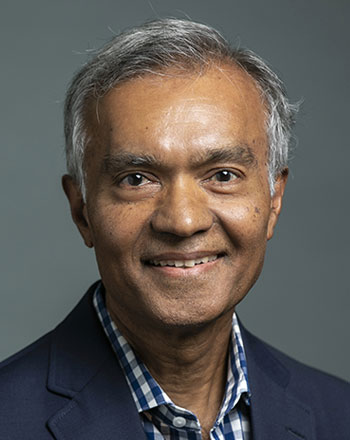 Titles and Organizations
Executive in Residence, Business for a Better World Center
Additional Roles: Professor of Practice, Management
Contact Information
Email: mhasan10@gmu.edu
Office Location: Enterprise Hall 245
Office Hours: By appointment
Biography
Rashed joined the business school in 2020 as an "Executive in Residence" for the Business for a Better World (B4BW) Center and as a Professor of Practice in Management area. Rashed has been teaching as an adjunct faculty member in Finance and Management since 2016. Rashed brings a wealth of experience in executive management with experience in technology startups, general management, strategy consulting, and senior management oversight in operations, finance, organizational development, manufacturing, and engineering.
Rashed is the Founder and Chairman of Nantuit LLC, a boutique business and technology strategy and software development company, based in Alexandria, VA. He co-founded and led Sentrana Inc, a data analytics and predictive technology company for nine years in the role of Board Member, Chief Operating Office, and Chief Financial Officer as well as head of technology, client services, organizational development, and administration. In 2000 Rashed led a project to build a hospital in Bangladesh using private and public partnership. Prior to that he co-founded a software and technology company in medical informatics connecting doctors' offices, hospitals and insurance companies for electronic medical records and payment systems. He also established and built off-shore software development capabilities in overseas locations.
Prior to technology startups, he spent ten years in strategy and operational consulting for premier management consulting firms such as Booz Allen & Hamilton and Ernst & Young, LLP. He consulted major global companies in different industrial sectors as Ford Motor Company, CNN, Pfizer, Lucas Aerospace, Texas Utilities, Alyeska Pipeline, among others.
Prior to consulting work, Rashed spent eight years in finance, operations, manufacturing, and engineering at GAF Corporation, Arthur D. Little, and Westinghouse Electric.
Rashed lives in Alexandria with his wife, Shagufta, and loves gardening, cooking, traveling, reading, writing and spending time with their two grandchildren. He has been publishing a series "Removing the Middleman" with focus on faith and human goodness bringing together our understanding of the contemporary world of science & technology, social sciences, business practices, humanities, and scriptures.
Rashed also founded a non-profit, MyLLife Inc, to encourage people to rise above religious divides and focus on our common faith in God and in human goodness for all people on this planet.
Research Interests
Stakeholder value creation
Corporate governance
Financial and stakeholder audits
Performance management and compensation
Strategy
M&A
Organizational behavior
Entrepreneurship and social impacts
Role of business in society
Education
MBA – Finance and Operations, The Wharton School, University of Pennsylvania
MS – Mechanical Engineering/Robotics, Massachusetts Institute of Technology
BS – Mechanical Engineering/Automotive, Massachusetts Institute of Technology
Media Clippings