Body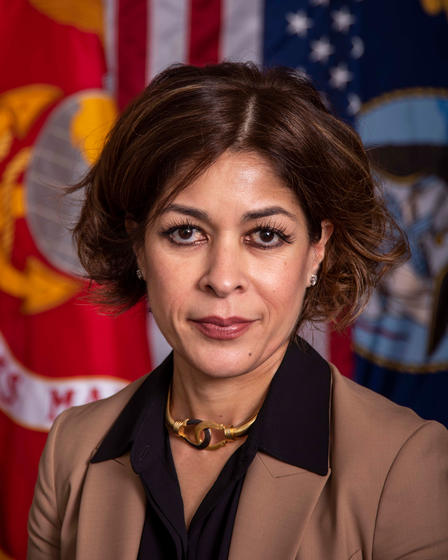 Never one to back down from a challenge, Alaleh Jenkins, BS Accounting '97, immigrated to the United States as a teenager without speaking any English. As a student at George Mason University, she enrolled in basic English classes and quickly became fluent in English while also excelling in her other courses. Focused on academics as well as adjusting to and succeeding in a new country, she took advantage of Mason's job fairs, landing a job at a major CPA firm after graduation.  "I got a lot of tough love at my first job and I will be forever grateful to my employer for pushing me out of my comfort zone," Jenkins says.
Jenkins' steady and enduring work ethic throughout the years led to her recent designation as the Acting Assistant Secretary of the Navy for Financial Management and Comptroller (ASN FM&C).  In this role, she brought with her lessons learned from the private sector.
"As I tell the FM&C workforce, if you don't change, you don't grow. It's very important that everybody learns to work in different environments, how to work with different cultures, how to be more inclusive, how to work in a very diverse organization, and how to communicate and move forward," she says. "For me it's about connecting the dots, integrating, answering questions, and (in her current role) making sure that the Secretary, the Undersecretary, and the rest of the leadership have the information that they need and that I have the monitoring in place across the various areas."
No two work days look the same for Jenkins, as she reaches out to various layers of the organization. This busy schedule of communicating and coordinating with colleagues across not only the Department of the Navy (DON), but other Department of Defense (DoD) and federal organizations is among her favorite aspects of the job. But the most rewarding aspect for Jenkins is the mission itself.
"I am honored and humbled to be in a position here to support our Sailors, Marines, and civilians who make up the DON – people who have sacrificed everything for us to live the life that we have in this country," she says. "The common mission of this team makes the organization feel like a family striving toward making it an even better place to work and to support constituents."
Reexamining her own path, Jenkins recognizes that getting exposure to new ideas, experiences, and people is critical for business students and young professionals to flourish. She doesn't have the answer to every question, but her character traits and ability to work effectively with individuals from all walks of life has enabled her to be successful in any workplace situation she faces.
"If there are opportunities to expand your horizon and gain experience in different areas, I highly encourage you to seize them," she says. "You always want to be in learning mode."
Jenkins acknowledges she didn't always know what she wanted to do professionally, but her hard work and passion went a long way in building her professional experiences. She encourages students to join clubs and take on leadership positions in order to understand what is best for the team, and how to succeed within that team's construct.
Though Jenkins sometimes regrets not engaging in more of the fun side of campus culture, she had her plate full working multiple jobs to finance her education. She also took on two internships through Mason in addition to the post-graduation job she secured by attending the school's job fairs. After recently taking her son on a tour of the Mason campus, she shared that many memories came rushing back. Her years at Mason were a time for self-reflection and growth.
Jenkins embodies the grit and determination of the American dream. Unafraid to make mistakes, she has embraced challenges and thrived.
"I didn't believe in avoiding responsibility for my mistakes," she says. "It was me owning it, good or bad, and learning from it and always moving up." Mason's geographic location, diversity, career services, and overall opportunities matched the ambition and goals of Jenkins, acting as a launch pad for a remarkable and rewarding career.
Disclaimer:  Neither the Department of the Navy nor any other component of the Department of Defense has approved, endorsed, or authorized this article.
---
On November 16, from 4-6 p.m., the School of Business will host a fireside chat between U.S. Navy Assistant Secretary and Mason alumna, Alaleh Jenkins and Dean Ajay Vinzé. Ms. Jenkins will be joining us on campus at Merten Hall to discuss her unique career journey and how students can best prepare to join the workforce. Click here to register for the event.